Here are most of our Doodle parents . All are AKC . and kid proof. They are xrayed and CERF . (Eye)

This is Ziggy . We brought him in from arizona. He is possibley the only breeding male parti in hawaii. He is a big love. So affectionate . Due to the quarantine laws his breeder had to keep him till he was 9 months old. she did an awesome job raising him up. thanks sharon ! He is blue and white. 25" tall and about 65lbs. He also carries the cream and brown gene. OFA GOOD and CERF.

UPDATE
Our Beautiful Ziggy went to Canada . I kept a few of his beautiful parti poodle girls and really didn't have any girl friends for him . He will be dearly missed. The main thing is he got an awesome home ! He is in a family of 3 dogs and has 2 girl friends. He didn't really like competing with Banjo for girls. Now he is once again top dog!

---

---

Rusty Is our newest addition He is a very dark red and will definitely darken up our apricots. He is OFA hips and elbows. DNA clear of DM,DE PRA, and Vwd. He is a super mellow boy who only barks when someone comes to the door. He carries the parti gene and already produced out first parti doodle . so fun! The parti doodle was from Bella who is an f1 who carries the parti gene.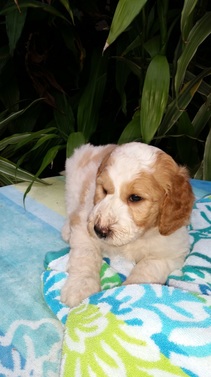 Brulee just had Bordoodles in black brown and parti colors! born 7/10 !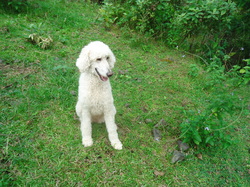 This is Brulee . She is Aprils daughter from when she came if pregnant from Arizona. she is alot like her mom very obedient by nature. Loving and sweet. and real joy to own. He curls are very tight which helps produce more non-shedding doodles. She is now 4 years old . Her hips are OFA " good" and her eyes are CERF clear.

Brulee loves everyone and is a very mellow poodle with a very obedient nature. She is a great mom and just had 11 pups!



---
Sam will be retiring this year. She will go to a great home and be very spoiled.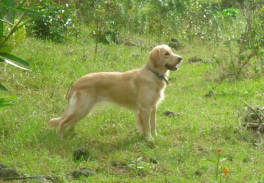 Samantha is a beautiful sweet AKC golden. she is 90% pennhip . which is more than great for a golden retriever.
She also got her eyes CERF certified a couple of months ago .

Sam will have pups mid july 2016 . I Kept one of her pups from last year and just got his OFA preliminaries back he is OFA good . He will be our new sire for F1b pups

Sam is also PRA clear and MDR1 clear . we did the full breed profile through Orivet and she was clear on all tests..


---
This in Banjo more info on him on the F1b page. He is a beautiful smaller standard poodle OFA good and clear of all other main poodle diseases . He is PRA , DE,DM and VwD clear.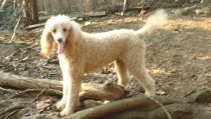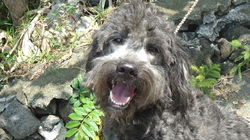 Abby our F1 goldendoodle will have pups in the fall. They have their own page titled F1b s. she is OFA prelim good and cerf.



---