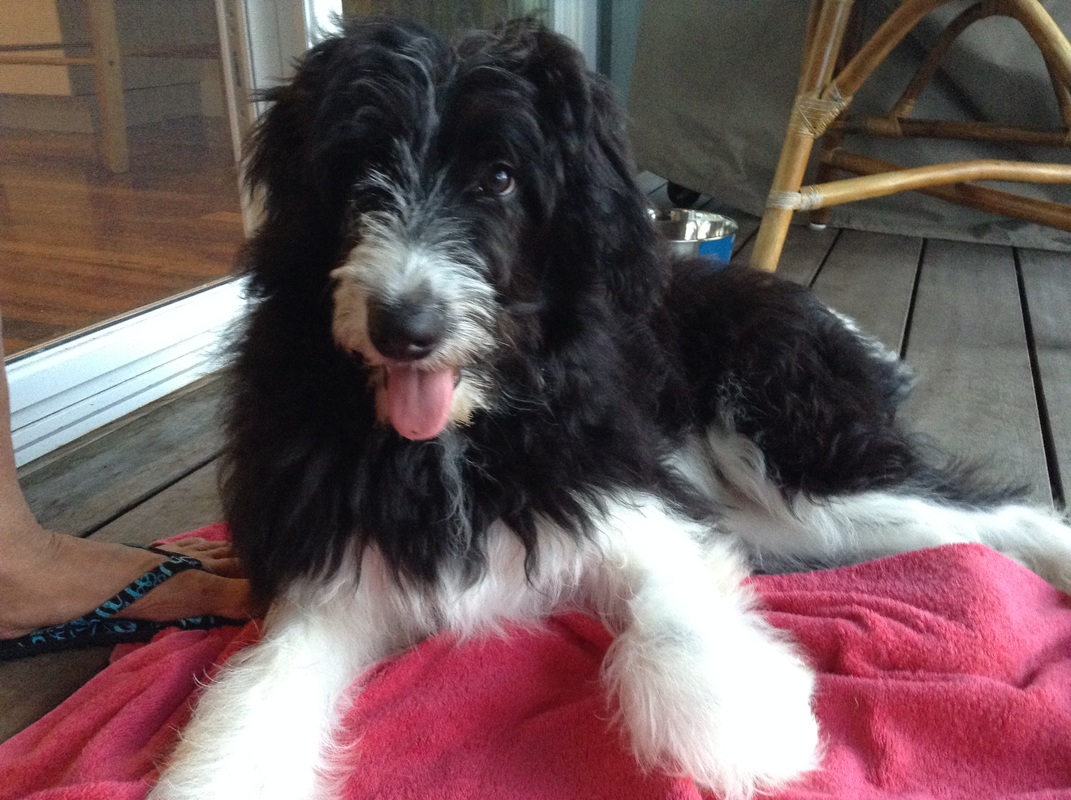 Bordoodles are ready 11/1/16 !! we have phantom boys available and 1 girl too.

7 weeks herer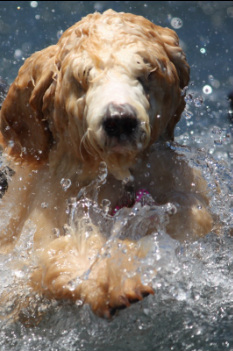 Welcome to Doodles Hawaii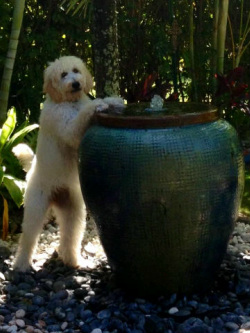 As a long time poodle and border collie breeder, the idea of "doodles" has facinated me for many years now. I don't like what the show dog people do to the breeds so risking their ill will was never a deterent. I waited to see and meet the doodles Gathered as much info as I could. I am quite impressed.

We had our first doodle litter about 3.5 years ago. I kept a beautiful black golden doodle. much to my pleasant suprise she is turning silver. In poodles she would technically be "blue " because aside from a few shades, blues take 1-5 years to "clear" and silvers start turnung by 4 months or so, Her name is "Abby" she is so sweet and mellow. She doesn't shed. The whole litter was so easy to care for. they were so sweet. Barely ever cried. I have bred several different breeds over the years. I could already tell these are very easy going dogs.

There is a show that dogs 101 did on goldendoodles. they said goldendoodles could be the perfect dog! look for links on the health page. John Travolta had 2 of them.

I also looked into aussie doodles . I have border collies and love their super soft temperment. I never have any displinary problems with them here or in their new homes. They are the sweetest with my granddaughter. She is the judge around here. If there is ever a question on temperment of dogs with her or her friends we won't keep that one.
Hope you enjoy looking at the pics . give me a call anytime 808 292-1680.


We are located in Kona . I often sell pups to the other islands. shipping or delivery options available. Pups going to Oahu are super easy and only about $65.

---
A wise quote from Burkes Back yard...
In the good old days dogs were crossed with any other dog which would produce the best result. About the turn of the century a piece of paper was brought in called a pedigree, and the pedigree meant more than the dog. That piece of paper has all but destroyed a lot of wonderful dog breeds. Out crossing them will make the breeds for the next millennium, and they'll be much better. Copyright CTC Productions 1999


CONTACT US:
if you have used the contact form I had up here I found out it didn't work so just give me a call if you'd like more info 808 292-1680 its local on Oahu although I'm in Kona