Bordoodles Next litter will be ready September of 2015!! reservations being taken now. we have 2 deposits so far. mom is brulee on the mom and dad page. If you are looking for smaller doodles. my friend is expecting mini/ toy aussie doodles ready in aug 2015!
These pups are over the top smart! Researchers have decided poodles and border collies can learn an average of 100 more words than other breeds. Generally the smart list is a test of how fast a dog can learn a new trick and how often they will repeat it. Being cooperative has been a big factor. That's why some dogs get a high rating on the list, because they try harder than some others. Well Poodles and Border Collies have both, they score high on the test #1 and #2 and now they tell us the average dog can learn 175 words but poodles and border collies can learn 265. That's why my dogs tend to fill in the blanks of my less than ideal training techniques. They just know what I want and they do it. I learned that not all dogs can do this, unfortunately. We are doing this breeding so I can keep one for my future sport dog. I will also be training her for therapy work taking her to my mom's home from a pup. I can't wait.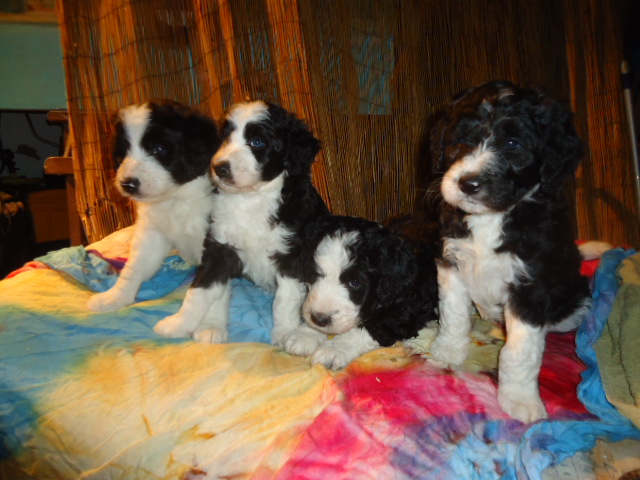 8 week old bordoodle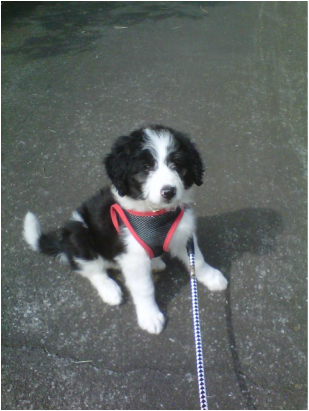 I loved this pup so much ! she got leash broke in 2 lessons and I wish I kept her. I hope we get several girls, so I can choose one like her.
---
Here she is at 1 year looks a lot like an old English sheepdog!