Dad is Banjo a beautiful apricot poodle. He has some parti markings that he passes on to his pups. Usually about half the pups have a blaze face. Its super pretty. He is OFA good hips and normal elbows. He has never met a stranger. He loves to play ball all day. .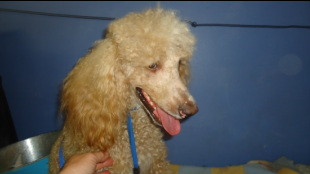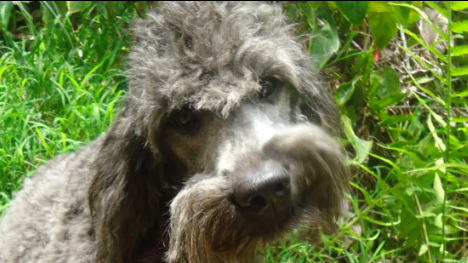 ABBY'S litter of f1b pups last year. This next leitter is due 10/10/15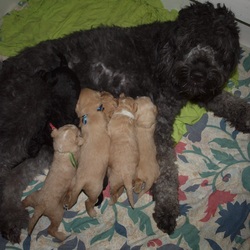 ..
F1b pups are a goldendoodle bred to a poodle so they are 3/4 poodle really increasing the chances of a non-shedding dog. This is closer to what the multigenerational labradoodles are although they also have some cocker spaniel in there if they are from Australia. I was so excited to see the cute little white markings on the pups. Their dad is an AKC poodle with some extra white. The show people hate this but its a throw back to the parti gene that all poodles have. The original poodles were water retrievers and they were beautiful parti colored dogs. Then the show people decided they like the solid ones better. Sometimes if you get certain white markings going up their flanks it can make the dog look unbalanced . That's all they ever cared about is winning. So they inbred them like crazy to get rid on the parti gene. Every once in a while it pops up recessively. Sure is adorable when it does.
I have a few girls left in this litter.

A BIT ABOUT THE PARENTS:
ABBY is a super sweet first generation goldendoodle. she loves everyone . She has OFA good hips and CERF. she is very mellow in the house and just likes to cuddle. she also loves retrieving. she is 48lbs.

BANJO is very outgoing poodle. He is super friendly and happy. He is ofa "good" and his parents are ofa as well. Both his parents are also CERF and I'm sure he will be too once the eye dr returns. He is a very small standard only 40lbs

I really encourage you to do some research on the different generations for yourself. This generation is often picked by people with allergies. Some of the "experts" tell you to get the first generation to get more hybrid vigor. If you think about it they still have more hybrid vigor than a purebred dog. It's really personal preference. main thing is the parents are tested especially their hips.









---
This is Hanna she is 10 weeks in this pic. she is so darn cute.
You can see the 3/4 poodle showing. Also they look more like
the multi-generational labradoodles . By the way Yahoo says
the goldendoodles are now #31 most popular breed and
labradoodles are #38 . I'm sure its the goldens super sweet
temperament that is attracting everyone. Labs are
wonderful but can be a bit overwhelming as pups kinda like the movie marley.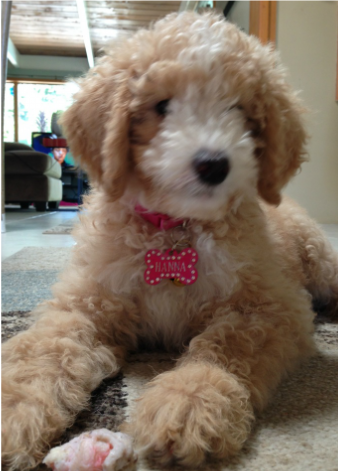 ABBYS Girls 2 weeks old